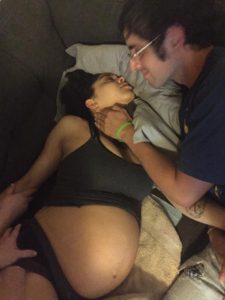 Never in my life have I felt more sure about a decision I've made then deciding to have a water birth in the comfort of my own home. Linda and Anissa really helped my partner and I feel comfortable about going this route because at first I was wondering if being at home was the right choice. As I neared the end of my pregnancy though, my confidence in knowing that everything was going to work out wonderfully proved true.
There was one (more than once, really) point during labor where I was so sure I couldn't do it- that I needed to be at a hospital, but when I felt those insecurities I turned to my midwives who could see the pain and fear on my face and turn it around with understanding, empathy, and love. I honestly couldn't have done it without the support of the two of them.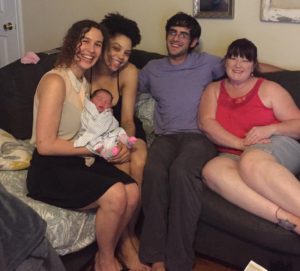 My gratitude runs so deep. It's honestly more than how I felt about it or my partner. It was the end result. It was seeing my daughter with her big eyes blinking and looking around for the next three hours following her birth. She was so alert and it's all because the delivery was drug-free. The water was so relieving and the fact that my partner was able to be an active role in the delivery helped me in so many ways. He was able to cut the cord and skin to skin was immediate. After everything was done, just the fact that I could sleep in my bed with my little family and relax for the rest of the weekend in a warm house will always keep my decision of having a home birth. The love surrounding this place is undeniable and I can't show just how thankful I am. Truly an experience I'm glad Gabriel and I went through. I can call myself a true warrior now.