What is a midwife?
A midwife is a trained professional who provides prenatal, labor & delivery, and postpartum care for healthy birthing people and babies. I attend home births (yes, including apartment or AirBnB/hotel!). I am a Certified Professional Midwife and a Texas Licensed Midwife.

What services does Metroplex Midwifery provide?
Free Initial Consultation (FaceTime consultation, Answer Questions, Determine if midwifery care is right for you)
Initial visit (Review Health History, Physical Exam, Regular prenatal)
Prenatal Care

Monitor physical and emotional health of parent and baby
Routine procedures like blood pressure, listening to baby's heart, discussing pregnancy discomforts and solutions, and more!
Standard and as needed lab work
In house ultrasound to confirm fetal positioning and see heartbeat!
Referral for more advanced ultrasound (dating, anatomy scan, biophysical profile)
Nutrition and lifestyle counseling
Emotional and informational support
Breast and pelvic exams if needed
Monthly home visits until 28 weeks
Prenatal visits every 2-4 weeks until 36 weeks
Weekly prenatal visits 38 weeks until delivery
Additional visits on an as needed basis.
Getting to know your birth team prenatally

Communication between client and midwife

Non-emergency texts and emails
Phone calls for labor or emergency

Labor, Delivery, and Immediate Postpartum Care

Monitor health of parent and baby in strong active labor
Listen to you about how you wish to labor and give birth
Freedom to move, eat, and drink in labor
Newborn Exam, including full physical exam and CCHD screening.
Suturing if needed
Filing of birth certificate and social security card.

Postpartum Care

Postpartum Visits at 1-3 days, 2 weeks, and 6 weeks.
Additional visits available as needed
Monitor the physical and emotional health of parent and baby.
Newborn Screen at 1-3 days and 2 weeks postpartum
Family planning education/referrals
Pap Smear at 6 weeks Postpartum
What are the benefits of using a midwife?
One of the main reasons families decide to use midwives is to experience natural childbirth and avoid unnecessary hospital interventions. Benefits of receiving midwifery care include: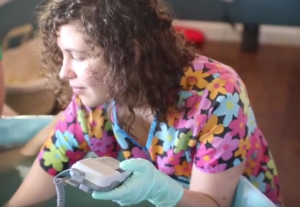 Decreased risk of needing a cesarean
Reduced rates of labor induction and augmentation
Reduced use of regional anesthesia
Decreased infant mortality rates
Decreased risk of preterm birth
Decreased third and fourth degree perineal tears
Lower costs for both clients and insurers
Increased choices in care
Increased chances of having a positive start to breastfeeding
Increased satisfaction with quality of care
How Do You View Birth?
My philosophy of practice is that pregnancy and birth are a natural and physiological events which most of the time will result in a healthy parent and newborn. I believe the body is intelligent and amazingly adaptable. We midwives act as the guardians of natural birth, watching and guiding the pregnancy and birth to go smoothly. In the event of discomfort, illness, or other pathology, we make recommendations and act.
Midwives are crucial in recognizing when signs point to the necessity of intervention. I believe that healthful nutrition, exercise, and herbal support can help prevent many pathologies of pregnancy, labor, and delivery. I also believe that mainstream medicine has its place when natural methods have not been effective or the client requests such treatment. In general midwives and our clients prefer to try natural remedies before moving to medical intervention.
Informed consent and client autonomy are at the core of my practice. I will provide information and resources, as well as encourage each client to research various procedures and practices. This ultimately allows each client to come to an informed decision for all parts of their care.
What about complications or emergencies?
One of my main jobs as your midwife is to identify any signs that point to abnormality and treat or refer as needed. We are trained in emergency procedures for both parent and child, including hemorrhage management, neonatal resuscitation, and more.
There are certain cases in which either the parent or the baby will require medical attention by a hospital or physician. Most healthy birthing people and babies will not require these services, but we are always watching to ensure the safest outcome for you and your little one. We recommend hiring a doula to support you in earlier labor and accompany you to the hospital in the event of a transport.

I consult with obstetricians, perinatologists, and other healthcare professionals and will refer to appropriate care providers as needed. Most medical referrals are non-emergency, including in labor! An ounce of prevention is worth a pound of cure!